From the warmest December on record to perhaps the coldest January in some areas. The report below discusses how teleconnections such as the MJO, EPO index, and La Nina are causing major volatility in the natural gas market
First of all, the pictures above are from an old blog and video I did a month ago at which point I was bearish the natural gas market. The MJO is a tropical distuburance that can rotate around the globe every 30-60 days and affect the global weather pattern. The combination of a strong La Nina, the MJO in a warm phase over the western Pacific and other factors helped natural gas prices fall 40% last month.
You can see my video and blog last month here.
But the weather pattern suddenly changed in the last week with historic cold hitting parts of the eastern U.S. Take a look at this picture on the top of Mt. Washington. I don't think you want to be eating spaghetti like this.
Strong La Nina events tend to result in warm winters over the southern half of the country, while weak to moderate ones can offer some occasional cold spells. Normally, for there to be consistent major cold weather, we need to see something called "stratospheric warming" over the North Pole. This can disrupt the Polar Vortex and send extreme cold south for a pretty long period. During strong La Ninas and an MJO in a non favorable phase (like this past December), it is rare to see big-time cold. That is why December was so warm.
In addition, the drought in the west and south helped to accelerate the incredible warmth last month over much of the U.S. This drought will be watched closely by grain traders this spring and summer. We help farmers make better planting and hedging decisions by giving more timely weather information and market advice.
'But when the MJO moves into a colder phase (see below) and La Nina is weak to moderate, cold weather can occur. This is what is happening this January. It is interesting to note that when we see something we call "stratospheric cooling" over the Arctic it normally does not result in a consistent major move south of the Polar Vortex.
But there are some exceptions. For example, the extremely cold January and February, 2014 inspired by a weak La Nina and other global teleconnections even though there was stratospheric cooling like this
The present January ocean temperatures are mimicking January 2014 ( Below) though La Nina now is a big stronger today than back then. The warm ocean temperatures you see in the central east Pacific in the Gulf of Alaska can help to create something we call a negative EPO index when the MJO is in phase 7-1 in January.
Though a bit hard to read the images below show how the MJO (tropical disturbance) is moving into a colder phase approaching the eastern Pacific. This can help to build the Alaska ridge (-EPO)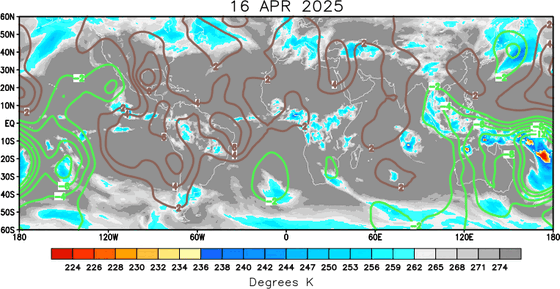 Other than natural gas prices soaring, following the December collapse, take a look of what heating oil prices have done vs gasoline. When we have consistent major cold with snows, this slows down driving and travel and hence heating oil prices tend to outperform gasoline. Want to learn how to trade the weather and get more timely weather forecasts. We invite you to a free trial here